Using FoldTables you get the maximum number of seats per m² and you don't lose time "arranging" separate tables and chairs any more. With FoldTables your customers sit in an active position which encourages drinking and eating. As well as this, FoldTables can be used for peak moments and events within your business. In no time at all you have extra seating available.
It is possible to make a hole for a parasol in the table top. These are not provided as standard.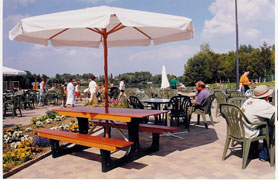 FoldTables at your location? We like to think along with you.